LIFE BLENDING
*
COFFEE TABLE BOOK
Table of Contents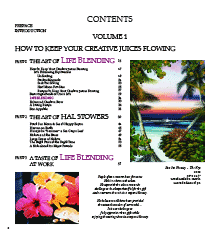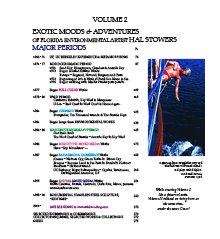 HAL STOWERS & THE ART OF

LIFE BLENDING®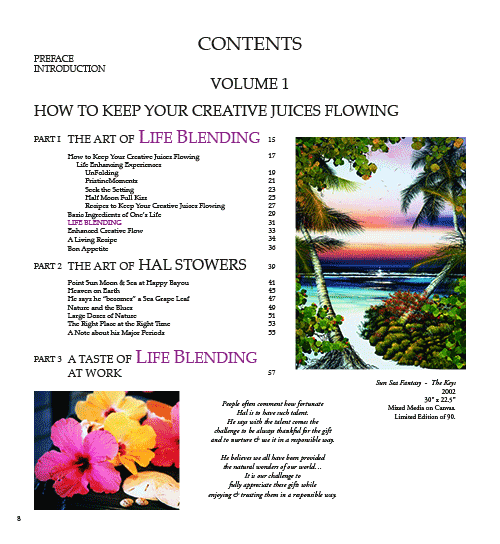 Table of Contents – See page 8
VOLUME I
HOW TO KEEP YOUR CREATIVE JUICES FLOWING:
PART 1 THE ART OF LIFE BLENDING
PART 2 THE ART OF HAL STOWERS
PART 3 A TASTE OF LIFE BLENDING AT WORK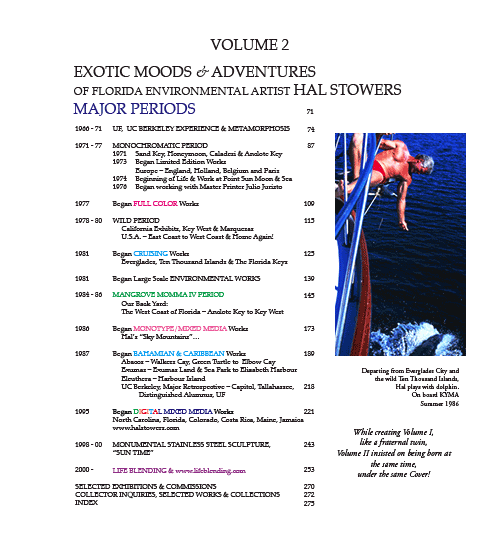 Table of Contents – See page 9
VOLUME 2
EXOTIC MOODS & ADVENTURES OF
FLORIDA ENVIRNMENTAL ARTIST HAL STOWERS

MAJOR PERIODS
MONOCHROMATIC
Began FULL COLOR Works
WILD PERIOD
Began CRUISING Works
Began LARGE SCALE ENVIRONMENTAL Works
MANGROVE MOMMA IV PERIOD
Began MONOTYPE/MIXED MEDIA Works
Began BAHAMIAN & CARIBBEAN Works
Began DIGITAL MIXED MEDIA Works
MONUMENTAL STAINLESS STEEL SCULPTURE "SUN TIME"
LIFE BLENDING & BEYOND
www.lifeblending.com

---
276 Pages / 11"x12" Format / More than 500 Full Color Images
essays / anecdotes / prose / narrative / ship's logs
INSPIRATION, CREATIVITY, SELF HELP, LIFE STYLE, ART, HAL STOWERS, ENVIRONMENTAL, NATURE
---
originaltropicalart.com
Original Tropical Art
Representing Florida Environmental Artist HAL STOWERS, ASLA
Please call 9 a.m. – 6 p.m. EST
727-784-5016
E-mail: art@halstowers.com
For more about
HAL STOWERS & The Art of LIFE BLENDING ®
visit our "Cyber Archives" at
halstowers.com & lifeblending.com
LIFE BLENDING is the Registered Trademark of WALKING TREE, INC.
Web Site, Art, Photographs & Content © 2006-12 B.J. & Hal Stowers
unless otherwise credited. All rights reserved.
Copyrights remain with the Artists/Authors
Published by WALKING TREE, INC.
Site Updated 9/30/2012
Page Updated 9/30/2012

* LIFE BLENDING is the Registered Trademark of WALKING TREE, INC.