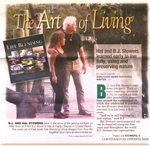 "…B.J. and Hal Stowers celebrate life daily. Their artistic creativity demands it…

"Hal Stowers' environmental art can be found all along the Suncoast and throughout the world…
"Nurturing each other's creativity has developed in them an awareness of the experiences by which one may best enhance those seeming intangibles called creative juices…

"Their investment in finding the elements that have fed their creative selves has paid off in a grander art project than B.J. and Hal had known existed: a book…
"…For more than three years, she brought together all they had experienced, and all they knew of living life to its fullest. Through all their shared years, B.J. has photographed Hal at work, at play, at rest and within the environment from which they both drew so much solace, inspiration and meaning.
She also took from their lives that which they had spoken of, and hoped for, and indulged in and created. Her goal was to show, through biography and example, how she and Hal developed what they call Life Blending, a term they co-authored in the 1970s.

B.J. said: "People have asked us the same questions for 30 years, over and over. 'How do you keep the creative juices flowing?' We decided to answer those questions."

"The Art of Life Blending, her magnum opus, combines design, art, prose, poetry and the living image. It incorporates those life-enhancing experiences with the basic ingredients of one's life to sustain creative flow…

"B.J. and Hal use each other to enhance their senses, their imaginations and–if you will–spirits, as a base for the needed mental energy to create…

B.J. and Hal attribute their success to keeping themselves steeped within these warm waters of philosophical attitudes made manifest as mental and physical actions…"