LIFE BLENDING *
COFFEE TABLE BOOK
Dust Jacket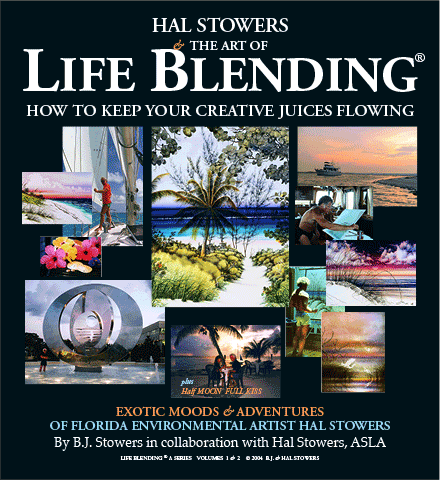 Front – Dust Jacket
Hal Stowers & The Art of LIFE BLENDING® - How to Keep Your Creative Juices Flowing
By B.J. Stowers in collaboration with Hal Stowers, ASLA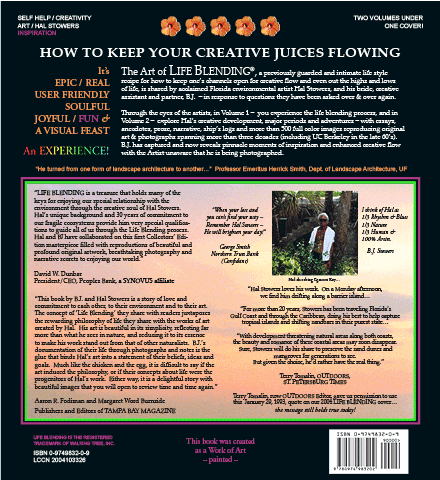 Back – Dust Jacket
"It's EPIC, REAL, USER FRIENDLY, SOULFUL, JOYFUL, FUN & A VISUAL FEAST
– AN EXPERIENCE!
…a previously guarded and intimate life style recipe for how to keep one's channels open
for creative flow and even out the highs and lows of life…"
"This book was created as a Work of Art - painted -"





Front Flap and Back Flap – Dust Jacket
In answer to questions they have been asked again and again about creativity, the couple shares their life style recipe for "How to Keep Your Creative Juices Flowing."
This epic also explores more than three decades of Hal's acclaimed art and intense passion in pursuing his lifework "to lift humankind's spirit and to bring greater awareness and concern for our disappearing natural ecosystems and their unique habitats worldwide." His collectors say his art helps them to see in nature things they have not seen before.
---
276 Pages / 11"x12" Format / More than 500 Full Color Images
essays / anecdotes / prose / narrative / ship's logs
INSPIRATION, CREATIVITY, SELF HELP, LIFE STYLE, ART, HAL STOWERS, ENVIRONMENTAL, NATURE
---
originaltropicalart.com
Original Tropical Art
Representing Florida Environmental Artist HAL STOWERS, ASLA
Please call 9 a.m. – 6 p.m. EST
727-784-5016
E-mail: art@halstowers.com
For more about
HAL STOWERS & The Art of LIFE BLENDING ®
visit our "Cyber Archives" at
halstowers.com & lifeblending.com
LIFE BLENDING is the Registered Trademark of WALKING TREE, INC.
Web Site, Art, Photographs & Content © 2006-12 B.J. & Hal Stowers
unless otherwise credited. All rights reserved.
Copyrights remain with the Artists/Authors
Published by WALKING TREE, INC.
Site Updated 9/30/2012
Page Updated 9/30/2012

* LIFE BLENDING is the Registered Trademark of WALKING TREE, INC.