LIFE BLENDING *
COFFEE TABLE BOOK
A Perfect Gift for all occasions…
TO ORDER
"…it is much more than
just a coffee table book
to be admired. You will
want to read,
re-read and even
study it…"
Aaron R. Fodiman &
Margaret Word Burnside
Publishers
TAMPA BAY MAGAZINE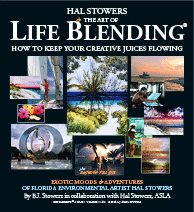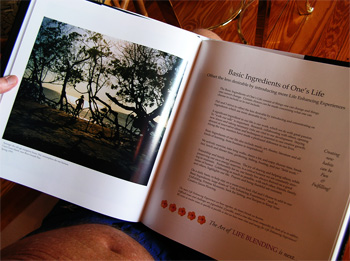 REVIEWS

READERS' COMMENTS
More than 500 full color images reproducing original art
by Hal Stowers
and photographs by B.J. Stowers, documenting
Hal's creative development,
creative lifestyle,
& adventures
The book explores
Hal's Major Periods as an environmental artist
and
shares LIFE BLENDING, the couples' creative lifestyle concept
that evolved along with his environmental art
to mellow out the highs and lows of life
and keep the creative juices flowing!
"LIFE BLENDING is like creating a work of art
or a delicious recipe."
See Page 31 HAL STOWERS & THE ART OF LIFE BLENDING ®

---
276 Pages / 11"x12" Format / More than 500 Full Color Images
essays / anecdotes / prose / narrative / ship's logs
INSPIRATION, CREATIVITY, SELF HELP, LIFE STYLE, ART, HAL STOWERS, ENVIRONMENTAL, NATURE
Signed by
Hal & B.J. Stowers – The Original LIFE BLENDERS!
---
It's EPIC… REAL… USER FRIENDLY…
SOULFUL, JOYFUL, FUN & A VISUAL FEAST
– AN EXPERIENCE !
In response to questions they have been asked over & over again –
a previously guarded and intimate life style recipe for how to keep one's channels open for creative flow and even out the highs and lows of life, is shared by acclaimed Florida environmental artist Hal Stowers, and his bride, creative assistant and partner, B.J.

---
"There are many kinds of creativity…"

"Hal and I believe that all of us have creative talents –
and that LIFE BLENDING daily… can help open one's self up to all sorts of possibilities!"
See Page 33 – HAL STOWERS & THE ART OF LIFE BLENDING ®
---
From
THE ART & ARCHIVES of
HAL & B.J. STOWERS…
This book was created
as a Work of Art
– painted –
with essays, anecdotes, prose, narrative,
and more than 500 full color images reproducing
original art & photographs
spanning more than four decades.
It is the authors' intent that this book was created as a work of art
– AN ARTISTS' BOOK –
uncompromised and edited only
by the authors to preserve its
intuitive & spontaneous
nature.

See Page 2
HAL STOWERS & THE ART OF LIFE BLENDING ®
---
With a non-clinical approach – a self help book dedicated to your inner self and the ability to motivate that inner self to greater levels of creativity and achievement through the self realization of what is actually important to you.
---
A multifaceted book for creative spirits…
from all walks of life – no matter what age (from young adult).
---
Certain readers enjoy LIFE BLENDING ® one page a day –
and some devour the whole book in one sitting!

Although many like to view the pages randomly – the most excited response is from those who start at the beginning to "catch the story"

.
---
originaltropicalart.com
Original Tropical Art
Representing Florida Environmental Artist HAL STOWERS, ASLA
Please call 9 a.m. – 6 p.m. EST
727-784-5016
E-mail: art@halstowers.com
For more about
HAL STOWERS & The Art of LIFE BLENDING ®
visit our "Cyber Archives" at
halstowers.com & lifeblending.com
LIFE BLENDING is the Registered Trademark of WALKING TREE, INC.
Web Site, Art, Photographs & Content © 2006-12 B.J. & Hal Stowers
unless otherwise credited. All rights reserved.
Copyrights remain with the Artists/Authors
Published by WALKING TREE, INC.
Site Updated 9/30/2012
Page Updated 9/30/2012

* LIFE BLENDING is the Registered Trademark of WALKING TREE, INC.