The Art of LIFE BLENDING®
is about seeking
Life Enhancing Experiences
on an every day basis
to lift one's spirit,
keep channels open for creative flow and mellow out
the highs and lows of life.
Hal Stowers is known through his Environmental Art,
and for being a part of a grass roots movement that began in
the Sixties and resulted in
laws protecting shorelines and wetlands
including
a string of pristine barrier islands off the West Coast of Florida
– Caladesi Island, Honeymoon Island, and Anclote Key –
that are now part of the State Park system.
Today, he says equally important to
creating his environmental art, is
"sharing LIFE BLENDING® to help fulfill
a universal need to
lift humankind's spirit."
Hal, and coauthor B.J., hope that
with today's information technology, seeds from their
LIFE BLENDING Book and
Your LIFE BLENDING Message on-line,
will grow from a
grass roots movement to world wide significance
– influencing values, ethics, quality of life –
and result in more sensitive choices in the
planning, design, development and regeneration of sustainable environments
for living, working, playing, and care giving.
"We designed the LIFE BLENDING book and its messages to be meaningful, user friendly and fun."
Our creative life style recipe defines
five "Life Enhancing Experiences," including
UnFolding,
Seek the Setting, and Pristine Moments.
Hal says "these ultimate experiences on an every day basis
help to lift one's spirit, enhance Creative Flow, and achieve a
Natural High in an increasingly synthetic world."
The Original Life Blenders
Hal Stowers, ASLA
& B.J. Stowers
B.J. & Hal Stowers wrote the
book on
LIFE BLENDING®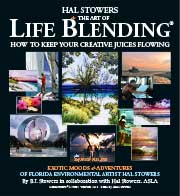 LIFE BLENDING Coffee Table Book
HAL STOWERS &
THE ART OF
LIFE BLENDING ®
HOW TO KEEP YOUR CREATIVE JUICES FLOWING
by B.J. Stowers in collaboration with Hal Stowers, ASLA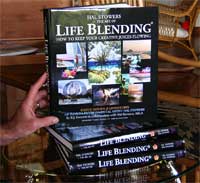 ---
"My continuing concern is for both the fragility of our
natural environment and the human spirit.
I would like
my work to serve as an uplifting buoy.
We need more focus on nature – its balance, mystique
and beauty – and that in life which is positive, exciting,
joyful and kind."
HAL STOWERS
From the Major Retrospective One-person Exhibition
entitled
THE GULF TO THE CARIBBEAN
The Capitol, 22nd Floor Gallery
State of Florida Tallahassee, Florida
January through April, 1993
---
We feel it is now time to reach out – to encourage
"collaboration" – a joining together of all
the arts, disciplines… individuals, corporations, countries…
with focus on
caring for our global environment.
HAL STOWERS
From the Solo Exhibition entitled
HAL STOWERS WORLD ENVIRONMENTAL ART
CENTER STAGE
Tampa Bay Performing Arts Center Tampa, Florida 1990
---