---
ARTIST'S CONCEPT
"My vision for 'SUNSET WATCH' –
An odd number of "larger than life" shore birds in silhouette at sunset,
as sentinels perched high atop pilings – in random compositions – with each bird, in its unique pose, complimenting the others.
As one moved about these monumental statements, the birds would interact – as if coming to life and dancing, and sometimes almost disappearing – on edge.
I wanted to take full advantage of the tensile strength and other qualities of stainless steel – creating large, graceful, highly reflective sentinels, that visually and symbolically, express the beauty and fragility of our shorebirds and their existence."
HAL STOWERS Summer 2005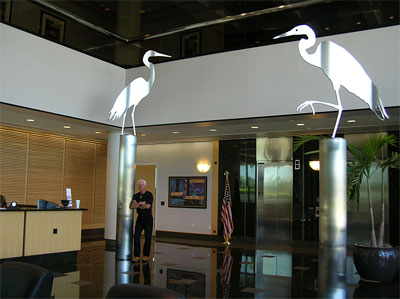 The very presence and "largeness" of the three stainless steel shore birds in the Lobby is unexpected and fun! Embracing the highly polished black granite walls and floor – the Artist designed the "SUNSET WATCH" elements to reflect throughout the contemporary environment
– bringing the outdoors in!
---
"The shore birds in 'SUNSET WATCH' appear and disappear –
depending upon one's perspective and point of view –
Just as our live shore birds can appear and suddenly disappear
according to the
perspective and care with which we treat the natural environments
in which they flourish.
While our real feathered friends are fragile beings,
the stainless steel expressions capture the poetic beauty of their forms
in a seemingly timeless world."
B.J. STOWERS 2006
---