---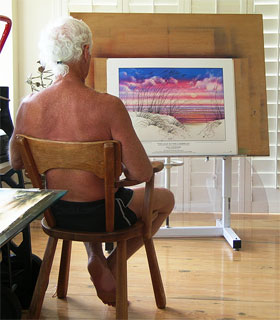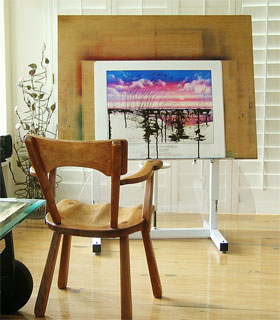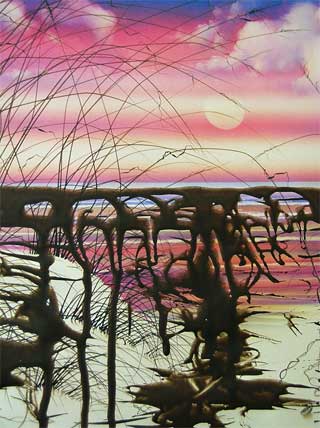 DETAIL:
"Drill Baby Drill..." by Hal Stowers, ASLA,
Florida Environmental Artist
I was moved to create "an OIL spill" to express the insidious, irresponsible exploitation of our natural treasures – and to energize concerned others to do what they each can as part of a growing grassroots movement worldwide – to bring a halt to this assault, and to encourage exploration of healthier and peaceful alternatives, and more sensitive choices for the benefit of all living on Planet Earth. *
HAL STOWERS, ASLA, July 4, 2010

Check back for VIDEO of Hal creating "Drill Baby Drill..."

"His love and concern for these fast-disappearing ecosystems have inspired him to capture them on canvas and paper. These works are a record of what may someday soon be a precious scenario of the way it was…"

St. Petersburg Times, writer Christina Cosdon 1978

* NOTE August 6, 2010 - We have found NO OIL on our Tampa Bay Area beaches -- let's all do what we can to help keep it that way.

LIFE BLENDING is the Registered Trademark of WALKING TREE, INC.


originaltropicalart.com
Original Tropical Art
Representing Florida Environmental Artist HAL STOWERS, ASLA
Please call 9 a.m. – 6 p.m. EST
727-784-5016
E-mail: art@halstowers.com
For more about
HAL STOWERS & The Art of LIFE BLENDING ®
visit our "Cyber Archives" at
halstowers.com & lifeblending.com
LIFE BLENDING is the Registered Trademark of WALKING TREE, INC.
Web Site, Art, Photographs & Content © 2006-12 B.J. & Hal Stowers
unless otherwise credited. All rights reserved.
Copyrights remain with the Artists/Authors
Published by WALKING TREE, INC.
Site Updated 9/30/2012